Tea Freak!  If the
tea pot
is full all the time, you just can't get enough cups per day, and you have more variety in your cupboard than say
TeaVana
, you may wear the t-shirt proudly!  Oh yes, January is National Tea Month, and politics being what it is, baggers are not really needed since there are plenty of teapots that work well with
loose tea
.
Whether you are living in a cold or warm climate, the fact is that a tea drink is comforting.  The aromatics alone from tea help sooth, in a way that few drinks are able to do so.  Many countries rely on tea as part of cultural ceremonies, or simply as a way to slow down & connect for the day, in more tranquil or intimate settings.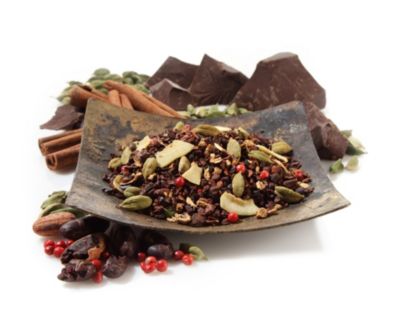 For instance in Japan, there is a traditional ceremony which is almost to a spiritual level.  One tea used from Japan is Matcha, which is a green tea finely ground to a powder, this month may be the perfect time to try some!  You may opt for the Japanese tea called  Sencha, which is not a type of tea, but rather refers to loose tea leaves (as opposed to Matcha).
Even Wall Street has experienced an awakening, and TeaVana went public recently; I really thought I was seeing incorrectly, but why not?  Tea is a multi-national world wide commodity, traded on near and  far shores.  Tea conjures images of Kublai Khan (of the Yuan Dynasty) or the romantic epic of Candide, in which is asserted "we must cultivate our garden", I would add " and that garden must include tea"!
The British have the most amazing teas, as well as the customary High Tea, or tea-time every day.  At around 5pm, you can find friends chatting, or people taking a needed break for the luxurious moment to connect.
However, what is tea really? Depending once again on your acceptance, I'm here to tell you that "tea" can really be brewed from almost any number of fruit tree leaves, herbs, spices, and even fruit.
One of my favorite teas is made up of fresh lemon grass, orange leaves, star anise, cinnamon stick, and sweetened to taste!  Which brings me back to my very offensive "faux pas", of adding sugar to my cup of "jasmine tea", when in Scotland please know your tea rules!
The good news is that tea is a healthy drink to have, warm or cold, it is normally rich in anti-oxidants, and flavorful! I imagine that you are ready to start enjoying something new, and if so I hope your tea choices will be as daring as possible, so go right ahead and raise some eyebrows, all while lifting your pinky aside the cup!
Note: If you are preganant, or breast feeding, please be careful with teas, which can have negative effects.  Always consult your physican, or pediatrican.
Thanks to: Wikipedia, tea image, article Sensa Japanese Teas, Bing images for lemon grass, Starbucks pics.
Related articles:
FlourChild- Tea & Valentine's Day